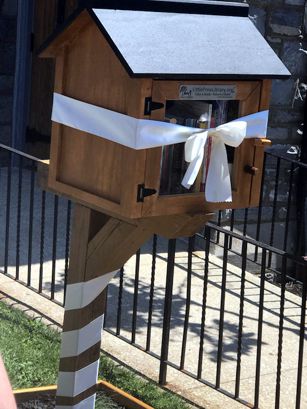 Years ago, a seed of faith was planted from the tree of knowledge. From that seed grew Christ Church – a people connected by faith, community and a care for educational opportunities that started with Sunday School and, later, the West End Preschool, the latter supported and housed by Christ Church throughout its 50 years of history.
On Sunday, June 11, 2017, Christ Church took another step in expanding its educational offerings by dedicating a FREE Mini Library, the first of such offerings in Norristown, the seat of our county. The objective of this little library is to provide access to educational information that would otherwise be unavailable to residents of our neighborhood or community. Given the diversity of our community, the hope is to provide reading material in English and Spanish.
Why a Free Mini Library? According to the U.S. Department of Education, up to 61% of low-income families do not have any books for their kids at home. By implementing a FREE mini library, Christ Church plays an essential role in providing 24/7 access to books (and encouraging a love of reading!) in areas where books are scarce.
The library is located in the grassy area near the parking lot entrance to the church.
It's premise is simple: TAKE A BOOK – LEAVE A BOOK.
Other instructions are posted for those interested in taking a book.