WE BELIEVE IN THE POWER OF PRAYER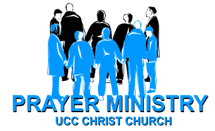 The Christ Church prayer ministry includes several prayer related activities of our church. It is formed with the understanding that prayer is a vital practice for all Christians. Prayer opens up communications between us and God. Prayer changes things and it changes us. Prayer helps us focus on God and what God is saying to us every day. Praying with others draws us together and helps us grow spiritually as we see ourselves as Jesus' disciples.In short, prayer is our spiritual lifeblood. And prayer, as it leads to action, can be both a means to revitalize the church within and to reach new people in the community around us.
We take our encouragement to pray from the scriptures:
"Pray without ceasing" 1 Thessalonians 5:18.
"Do not worry about anything, but in everything by prayer and supplication with thanksgiving let your requests be made known to God. And the peace of God, which surpasses all understanding, will guard your hearts and minds in Christ Jesus" Philippians 4: 6-7.
"Therefore confess your sins to one another, so that you may be healed. They prayer of the righteous is powerful and effective" James 5:16
The Christ Church Prayer Ministry includes:
Free Prayer - Join Pastor Jeff for coffee, conversation and "Free Prayer" every Thursday, 9:00 - 10:00 AM,
Dunkin Donuts, 1941 Main Street, Norristown, PA, 19403.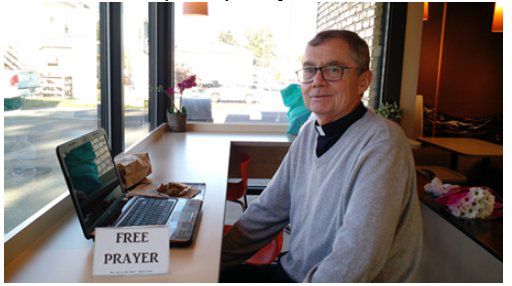 Focus on Prayer – a group that meets the 1st and 3rd Sundays of the month at 6:30 pm in the church sanctuary, immediately following worship service. The group has a short prayer-related discussion followed by prayer. The group solicits prayers requests and invites all who would like to receive prayer for any reason to attend.
Prayer List – a weekly printed prayer list in our Sunday bulletin. Those mentioned are offered to God in prayer during Sunday service and on an ongoing basis.
Share My Prayer - We have all been in those seemingly desperate situations where we fear for a potential negative outcome; hope for a positive outcome; need to share a burden; need support or assistance or simply need a "shoulder to lean on."
Those of us at UCC Christ Church in Norristown understand that and have been there ourselves . . . at times or at present. We also understand and BELIEVE IN the power of prayer and are willing to join with you in praying for your intention. Hopefully, the more prayers that float up to His ears, the more likely the Lord will be willing to answer us . . . on our behalf or on your behalf.
If you would like us to join in prayers for your special intention, we offer a special mailbox with the address of sharemyprayer@uccchristchurch.org to which you may let us know how we can help through prayer. Our pastor checks the mailbox daily and will respond to your request as you wish. It may be as simple as offering your request for prayer during our Sunday worship service or responding with your requested phone call or contact to offer that "shoulder to lean on."
We are here to join in your prayers for the Lord's assistance. We also offer the peace and comfort of an accepting congregation. Come and visit with us.