Church's annual Free Neighborhood Music Festival
entertains crowds in Norristown's west end
By Gary Puleo, The Times Herald
POSTED: 07/03/16, 9:52 PM EDT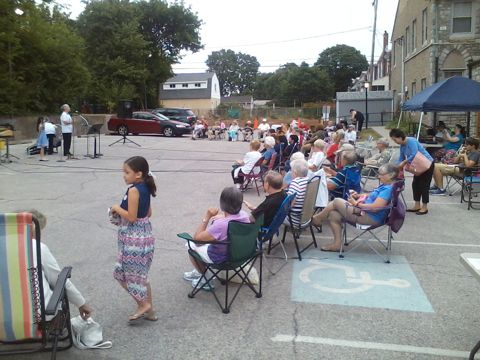 NORRISTOWN >> Part early '60s hootenanny, part gospel hour, the Free Neighborhood Music Festival resonated from the Christ Church, United Church of Christ parking lot through the surrounding streets of Norristown for the 21st year on Sunday evening.
You can easily set your calendars by the event, which is always held on Independence Eve, noted the church's music director, Melanie Eberhard.
"This year it's on a weekend, so a lot of people may be away, but we usually get a very good crowd," Eberhard noted, adding that donations raised from the hot dogs, baked goods and other refreshments available at no charge would help the youth ministry.
"From the food pantry they do to clothing drives, our youth ministry does a lot of work that benefits the community year round," she said.
The Song Sheets, a sisterly duo comprised of Norristown natives Ruth Sheets and Linda Gagliardi, had performed at the inaugural Neighborhood Festival back in the '90s and were back to reveal why their particular brand of Americana is "a gem for Pennsylvania," according to Eberhard.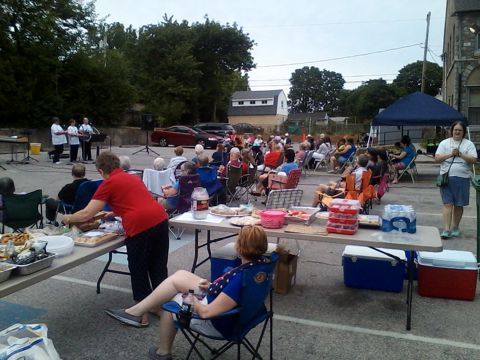 "We like to do a lot of singalongs and stuff you'd find at folk festivals," explained Gagliardi, who added that the duo's theme this year was one of peace, to help mitigate the terror and fear going on in the world.
To that end, the women drew from the songbooks of Tom Chapin and Woody Guthrie, peppered with the occasional show tune and patriotic standard, as well as traditional English ballads like "Scarborough Fair," and the cheery anthem of optimism popularized by Frank Sinatra in 1959, "High Hopes."
As dusk began to fall on the church at the corner of Noble and Marshall streets, the Christian Network Outreach, UCC choir followed with its rousing brand of gospel music, opening with a heartfelt take on "Rock of Ages."
"Christ Church is a sister church to us, and we were asked to perform here this year for the first time," noted the choir's director Francis Wright.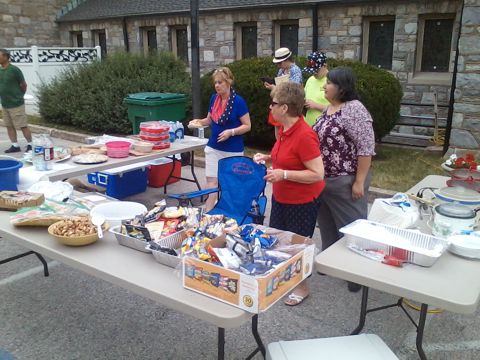 "This is such a nice thing they do for the community," added Cheryl Wright, his wife and also a member of the choir.
Bishop Bruce Allen and wife Rev. Diane Allen are pastors of Christian Network Outreach, UCC, located at Swede and Elm streets.
For the Rev. Jeff Johnson, pastor of Christ Church, the Free Neighborhood Music Festival stands as one of the church's strongest alliances with the community.
"I think people love that we have this little get-together outside. We don't do it on the Fourth because that's a busy day for families, but the night before. This is the sixth one that I've been here for, and it's a thing that people look forward to and really have a good time. It's an outreach to the entire neighborhood," he said, motioning toward the folks who had come out to take a seat on the front steps of their homes on Marshall Street.
"We're trying to find ways to connect with our roots here in the west end, and this really fits the bill for that. We just want to make our presence known and be part of the community, and to be more of a partner with the community as well."