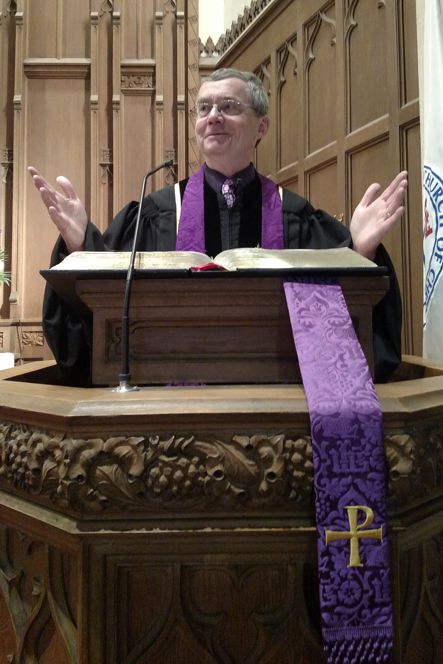 OUR PASTOR . . .
Reverend Jeffrey G. Johnson
Pastor Jeff was born and raised in Aurora, Illinois, the grandson of a United Methodist minister. The church played an important part in the life of his family as he was growing up. But, as a teenager, he drifted away from the church. He graduated in 1974 from West Aurora High School and from Northern Illinois University in 1979 with a degree in Broadcast Journalism with an emphasis in speech.
In the 1980's, he worked in several Chicago commodity brokerage companies as a clerk. This was a troubled time in his life but, with God's help and the help of others, he came through it. He returned to the church and, in 1991, pursued a call from God to pastoral ministry. He married Irma Monsivais in 1994 and received his Master of Divinity degree from the Northern Baptist Theological Seminary in Lombard, Illinois in 1996. Prior to coming to Christ Church, Pastor Jeff served two congregations: six years at the First Baptist Church of Gas City, Indiana followed by nine years at the Federated Church of Carlinville, IL.
Pastor Jeff appreciates the twelve steps to recovery as a great model for life transformation. It influenced his view of what the church should be in relating to those who are seeking change in their lives. His ministry is also influenced by the "all things are possible with God" message of Dr. Norman Vincent Peale. This continues to be a major theme of his ministry today.
Pastor Jeff's interests as a pastor lie in the areas of preaching, pastoral care, mission and outreach. He believes that the church is, first and foremost, a mission enterprise that communicates the love of Christ through the building of relationships and the serving of the community.
Pastor Jeff and Irma have a son, Andrew.